Editor's note May 2016: The food at Quan Ut UT is so popular the guys have opened a second, much larger restaurant on the canal. We visited the other day and can report the food is equally as awesome, the selection of beers even better than before, and there's now lots of room for large groups. (Although I'd still make a booking and ensure you get a seat)
With a name that translates to something like "Oink, Oink Street Café", there are no prizes for guessing what the specialty of the house is. Run by an Aussie and a Frenchman, who both have lived in Ho Chi Minh City for many years and with a new arrival from America (the Chef); this new Barbeque restaurant has quickly become a hit with locals and expats alike. Despite only being open since April 2014, they regularly have a line up to get in despite being able to seat around 70 people. We planned our arrival early in the evening to avoid the dinner rush and were lucky enough to catch up with Tim, the Aussie part of the team over a couple of beers. He was able to fill us in on a few of the secrets to the unique style and flavours that were on offer.
Đang xem: Quan Ut Ut Ut Review – Quan Ut Ut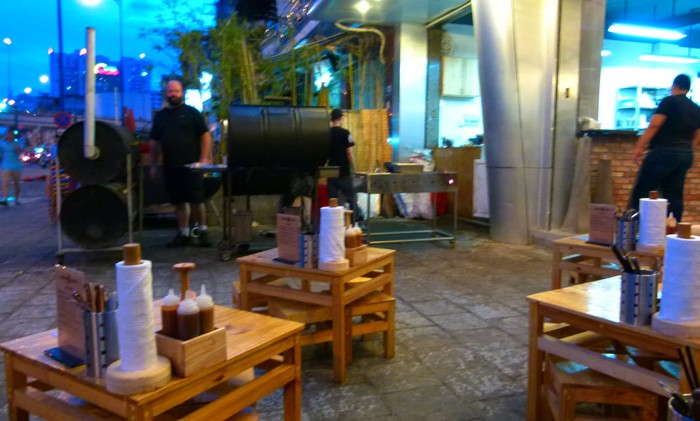 The Barbeque is cooked right before your eyes
For starters, Mark, the partner from Chicago, just happens to be an expert in cooking BBQ's Southern style. I thought we Aussies were serious about our barbies but apparently the Americans take that to a whole new level. His specialized knowledge blends the best in flavors and techniques from various US states, including Kansas and South Carolina to produce a unique taste that is obviously popular with the local Ho Chi Minh City crowd.
When the guys were trying to find a source of wood for their on-premises meat smoking, they found the usual types just weren't available in Ho Chi Minh City or the rest of Vietnam. A local supplier provided them with samples of alternatives which they put through rigorous taste testing. After much trial and error, the eventual choice was cashew hulls for their pork products and dried sugar cane pulp for their chicken. Their selection was a good choice as the restaurant is now making over 150kg of bacon a week and are still having trouble keeping up with demand.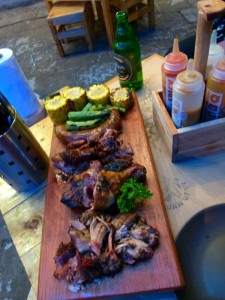 We were majorly impressed with the sample platter
All that talking about the food had us feeling a bit peckish, but had a bit of a problem. The ribs sounded fabulous as did the sausage, bacon, chicken, burgers and everything else on the menu. We really couldn't decide on what to order. Luckily they have a "sampler" on the menu. Pork ribs, smoked chicken, pork sausage, pork shoulder, okra and grilled corn on the cob, all on one platter. It cost 550 000 VND (around $27), but it was enough to feed the two of us. All of the main courses are large and aimed towards the Vietnamese custom of eating in groups and sharing from the centre of the table (except the burgers of course)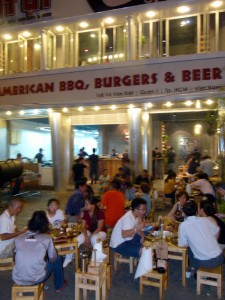 It fills up quickly after 7 pm
The food was with us in no time at all and was everything our little chat with Tim had promised. The pork ribs were melt-in-the-mouth, and the meat had been pulled off the bone for us already. The pork shoulder was a little drier, but there is a selection of fabulous sauces to dip it in. Take your pick from Kansas Style BBQ, Carolina Gold Mustard, Smokin' Honey and Charlie's Chili, made by a friend of theirs. The sausage had a unique flavor and is definitely in the gourmet category, and the chicken had a sweet, caramelized smoky flavor derived from the sugar cane pulp. If I had to be picky, I'd say the chicken was a little undercooked for my liking. But it was moist and flavorsome and tasted great. The grilled corn and okra topped off the meal perfectly and by the time we got through it all we were pretty full to bursting.
Xem thêm: Kiểm Tra Bản Quyền Office 365, Kiểm Tra Phiên Bản Office Đang Sử Dụng
As we finished off the meal with our third beer each, the restaurant had started to fill up as predicted. By 7 pm, most of the tables downstairs were full, and there were quite a few people upstairs. The staff didn't appear phased at all and handled the crowd very efficiently. We watched as some of the other offerings came out to the tables and quickly decided we would be coming back again to sample the rest of the menu. Probably first on our list is the full rack of ribs. They were enormous and smelt divine.
Overall the sample platter and six local beers came to 700 000 VND (~$33) which is a lot more than we'd usually pay for a meal. However, when you think about what we got for our money and what that would cost back home its pretty good value. We'll certainly be suggesting it to any visitors that come to see us while we're here if they start tiring of Vietnamese food.
You can find Quan Ut Ut at 168 Vo Van Kiet, District 1. Their second site is at 60 Truong Sa, Binh Thanh





loading map – please wait…
Xem thêm: Tổng Hợp Hình Ảnh Cảm Ơn Tình Yêu, Những Lời Cám Ơn Người Yêu Hay
Map could not be loaded – please enable Javascript!→ more information
Note: I do not receive any payment for this post (or any others on the site for that matter!). I do receive a small amount of money by allowing advertisements on the site and any purchases made through those links.
You may also like…
2 Responses
Richar West says:
I am from Texas but live in Vung Tau. I would like to visit you in hcm and talk about you providing me with sausage seasoning. TKS Richard
Leave a Reply Cancel reply
Your email address will not be published. Required fields are marked *
Comment *
Name *
Email *
Website
Check here to Subscribe to notifications for new posts
Sign me up for the newsletter!